Greenhouseemporium.com Reviews
470

Verified Customer Reviews
470

Customer Ratings and Reviews

Shopper Approved collects trusted reviews from customers who have made a verified purchase.
---
Would Recommend
5
4
3
2
1
Would Buy Again
5
4
3
2
1
Customer Service
5
4
3
2
1
Delivery Time
5
4
3
2
1
Product Satisfaction
5
4
3
2
1
Price Satisfaction
5
4
3
2
1
SHOW DETAILS
---
Christine
2 days ago , FL
Trevor was so helpful! He handled my minor issues very timely and with a great attitude! I can't say enough good things about this company!
2 days ago
Everyone at Greenhouse Emporium is so helpful! I purchased a Victorian Greenhouse from them 2 years ago and you would think it was yesterday. They continue to service their clients and their products impeccably! I highly recommend!
---
Sharon F.
4 days ago
Trevor is great!
---
Donna F.
1 week ago
Trevor and everyone at Greenhouse Emporium were so helpful and professional. They are our go-to place for all our greenhouse needs.
---
Donald Z.
2 weeks ago
Once again I received excellent help from Trevor
---
Victoria M.
2 weeks ago
so far so good
---
Shelby B.
3 weeks ago
Another satisfying experience with Greenhouse Emporium
---
Linda D.
3 weeks ago
I had a broken part that I was trying replace they found the part and got it ordered
---
Susan S.
02/17/2023
so far so good
---
Jean P.
01/14/2023
Hope the filters show up soon.
---
Denis T.
12/02/2022
Great
---
Hubert R.
11/10/2022
Friendly and very helpful people thank you
---
John B.
10/31/2022 , VA
Website is well thought out

Had requested delayed delivery because I was going to be out of town for some time. This request was not honored.
---
Joseph M.
09/04/2022
Fantastic selection and price
---
Decateur R.
08/26/2022
Excellent customer service!
---
Jeanette B.
08/02/2022
Great customer service, everytime!
---
Gordon
07/30/2022 , CO
A greenhouse is not just a purchase, it is a lifestyle. You want the best people to help you with the process.
We wanted to share our experience so that future customers can make the decision to move ahead with their Greenhouse and to learn a bit more about the process of erecting it.
If you do not read any further, Greenhouse Emporium's sales process and customer service was as good as it gets. The Greenhouse is well made, and we have zero regrets choosing the Janssen Vi36 (10X20) polycarbonate greenhouse.
After performing research about Greenhouses, we choose the Janssen Greenhouse, manufactured in Belgian. We live in the mountains of Northern Colorado where we get strong winds, and the temperature fluctuates.
The construction, the manufactured metal pieces, the use of removable and adjustable rubber gaskets to hold 10mm panels (other use 4 or 5mm) instead of silicone glue all made this a superior choice. There is an option for painted metal work. We choose black because it compliments the color of our home.
We choose the Janssen because it came with an engineering certification for wind resistance. It can theoretically stand up to 125 MPH gust for 3 seconds. Its reviews seemed positive and Greenhouse Emporium, one of the U.S. direct sales organizations seemed very knowledgeable. The only other real choice for us was a custom-made greenhouse which is not built as well as the Janssen.
There are many U.S. based sales organizations that sell Janssen. It appears all of the orders funnel through a Texas based company called Exaco, who is the importer and distributer. At the time, we did not know that Exaco is the service and support for the Greenhouse.
Greenhouse Emporiums staff were knowledgeable, patient and offered suggestions that led us to the Janssen model Vi36, which is a 10'X20' Greenhouse. We choose the 10-millimeter polycarbonate panels because they insulate better than glass and are more forgiving against hail storms. Polycarbonate does cut back a bit on the sunshine, but we get plenty of that at 5,250 foot altitude.
After placing the order with Greenhouse Emporium, we were told it would take a few months. The order shipped to us directly from Exaco in four large pieces. A forklift is required to maneuver the pieces from where the freight truck dropped them on our driveway to the inside of the garage. One piece was 22 feet long. The Janssen manual, which can be downloaded from the Greenhouse emporium website has the weights of the four packages for the model that you purchase. The delivery date and the communication from the freight service were excellent so we had a neighbor on-call with his forklift.
Opening the packages was both exciting and frightening. So many parts. The parts must be visually matched to the manual to be able to assemble. The packages took up one slot of a three-car garage. Once we opened and laid out the parts they took up one or two of the other slots depending on the build that day.

Read the entire manual before the Greenhouse arrives. Watch the Janssen YouTube video. Then watch it again. I kept the YouTube available on an old iPad and referred to it often during the assembly.
We choose to mount the greenhouse to a cement foundation wall filled with 6 inches of pea gravel. The manual has clear instructions on what is required. Translating the requirement to local cement contractors to get bids was a challenge.
The design, manufacturing, engineering, and quality were superb. My Wife and I, who are both 70, assembled the Greenhouse without any additional assistance. It is hard to say how long because of weather and normal interruptions. Over the space of two weeks, it was erected and ready to begin planting. We tried to divide the workload into logical pieces that could be done a day at a time. Foundation, Roof supports and roof struts, ceiling panels, wall panels, doors...
We made quite a few calls, some in sheer panic to Exaco and Greenhouse Emporium. Mostly about where is this or that part, how do you do this or that. Exaco has a team of support specialists available seven days a week. Amazing. We could not have built this without them.
As soon as the roof was filled in with Poly panels, we discovered our first real challenge. The outside temperature was 85 degrees, and the inside temperature became 110 degrees! That is without the walls.
At first, we did not think we were going to need the curtain and misting system. They are there for a reason, install them.
After researching online and speaking with Exaco and Greenhouse Emporium we purchased a 20' exhaust fan. Thanks to Greenhouse Emporium, the fan came right away which allowed us to install it in the side of the Greenhouse by cutting down one panel and using an extra strut.
Supplementing the fan, we ordered an evaporative cooler online. As the days became warmer, we bought a second evaporative cooler so there is a unit on each end. Using the fan coolers and drawing the shades we can keep the Greenhouse 10-15 degrees cooler than outside. Activating the misting system drops the inside temperature by 5 degrees. The fan pulls air in thru the shutters that came with the greenhouse and out thru the fan on the opposite end of the greenhouse.
Colorado being Colorado, the temperature went from 85-90 degrees to a three-inch snowstorm in March. That meant heating the Greenhouse so the delicate seedlings would not perish. We bought a Bio Green PAL 110V heater. It is made for Greenhouses and can withstand the humidity and occasional splash of water. It is equipped with a digital temperature sensor and remote probe.
As the nights became progressively colder, going down to 40 degrees, we bought a second Bio Green heater. One for each end just like the evaporative coolers. We plan on purchasing the 220V version for the winter. We want to aim at keeping the inside temperature no colder than 50 degrees to grow year-round.
We have already had 50 MPH gusts that blew in the direction of the broadside of the Greenhouse. It was solid. Neither the supporting structure or panels moved. We have had downpours of rain. Almost no penetration of rain.
My Wife and I enjoy going into the greenhouse every morning to see which plant has new buds or new vegetables. The first round of vegetables we started in the Greenhouse include tomatoes, zucchini, cucumbers, peppers (four kinds), strawberries, and various herbs. The greenhouse is already producing more veggies than the two of us can eat. Bid win for our neighbors and family.
Tips and Hints
The manual from Janssen is very detailed, but there are still surprises. Exaco has rewritten the manual to make it easier to use.
Do not be afraid to call for help, the Exaco support team are very patient. They have several people that g out I the field and will assemble a greenhouse for you, at a price. Because they are hands on people, they know where the tough spots are.
If you find that later in the build you missed adding seven bolts to the foundation or 13 plastic curtain attachments to the upper roof foundation, like we did, it is possible to carefully drill ½' holes and insert them later. Look for references to those two items in the manual. They are for the door frames and the curtain sliders.
When you order with Greenhouse Emporium, order a bag of 'T' Bolts. There are used to add attach things to the tracks of the vertical and horizontal supports of the greenhouse, like fan controls or thermostats.
Having automatic openers for the roof windows and glass shutter seemed like a good idea. We ran into a couple of issues. When the heater was running at night, the warm air rose, and the opener thought it was 70 degrees and opened. On warm windy days, having the roof window open in the direction of the wind gusts did not seem like a good idea. We ordered manual crank openers for the windows that came equipped with automatic openers. The same issues occurred for the automatic shutter opener. Our shutter faces East, so the morning sun warmed up the opener and it opened despite it being 50 degrees outside. Face it, a Greenhouse is not an 'automatic' operation. It needs love and care. Having manual windows was no problem at all for us.
Installing the poly panels - We found wearing cheap nitrile coated nylon gloves gave us the grip we need to handle the panels and install the rubber gasket. The panels are about 26' wide. We are concerned about being able to reach across the panel to press the gasket into place. A tall ladder solved that problem. Get up higher than the panels so you can bend forward to press the gasket into the groove.
The rubber gaskets - use the gloves described above if for no other reason than because the gaskets are oily. They install easier in warm weather than cold weather. While installing them, the weather turned cold, we put a pre-cut strip inside of a 2' PVC tube and blew warm air into the tube until the gasket was pliable, then quickly installed the piece.
Electricity - You will have to run electric to the greenhouse or install solar panels outside of it to run the fans, heaters, lights, pumps, etc. We have two 110V lines and one 220V line into the greenhouse. If you are in a colder climate, you can consider electric versus gas heat.
We installed an 8-foot-wide shade on the south facing end of the greenhouse. It cuts out 80% of the sunlight. On very hot days, we draw all the shades at 1:00. That has not interfered with the growth of the plants.
We investigated thermal earth buried cooling/heating lines. The return on investment did not make sense to us. You will still need to heat and cool the greenhouse using electric or gas.
We thought the roof vents would exhaust the hot air or pull the hot air from the top of the greenhouse out thru the fan. We found, in our climate, the side shutter/side fan works best, we will keep the roof vents closed for the summer.
Automatic watering - we installed a drip system, but never use it. Maybe if we travel and are away for days at a time. Part of the pleasure of owning a greenhouse is spending time inside of it. Tending to the plants, trimming, fertilizing, watering is part of the experience.
A big thank you to the team at Greenhouse Emporium and Exaco.

---
Jerry C.
06/26/2022
I havent recieved merchandise yet to give true review.
---
Paul S.
05/23/2022
Trevor and the team do a great job.
---
Andrew J.
05/15/2022
Trevor was awesome and very helpful with my purchase. Thanks!
---
Bill
05/09/2022
Fast and easy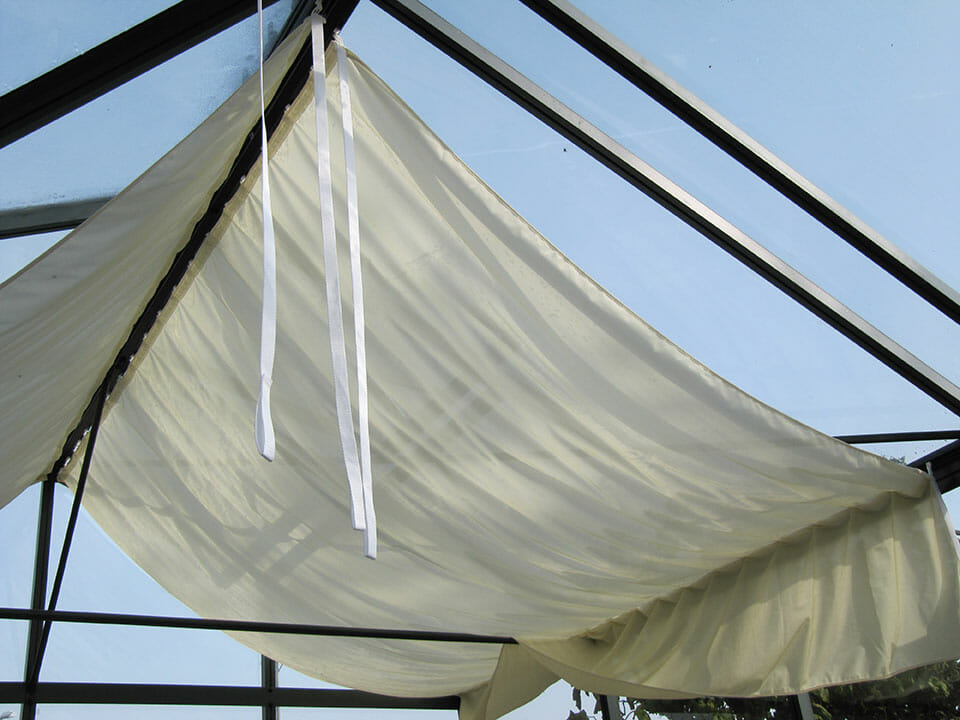 05/09/2022
Very nice, good fit but expensive
---
Why Trust Verified Reviews?
Verified Reviews are real, authentic reviews collected from actual paying customers, using Shopper Approved's Verified Review Platform. When reviews are Verified by Shopper Approved, you know that you can trust them to make better buying decisions.

Unverified Reviews on the other hand, are reviews collected by Open Review platforms that allow anyone to leave a review, without any validation or proof of purchase. Unfortunately, most reviews you read online are Unverified Reviews, and can't be trusted.

As a consumer, here's how you can tell the difference:

Verified Reviews from Verified Review Platforms like Shopper Approved, have much higher review counts and higher overall Star ratings, because they attempt to collect reviews from every single paying customer.

Unverified Reviews from Open Review Platforms, tend to have much lower review counts and more negative Star ratings, because people with bad experiences are primarily those who leave reviews. This often creates a misleading, inaccurate portrayal of a companies true reputation.

So, when searching for Verified Reviews, look for the name you know you can trust. Shopper Approved.
Are you a Business?
See What Shopper Approved
Can Do For You